De ja vu all over again
In my previous post, I mentioned about how the weather was nice in Florida for the memorial day weekend and that I went to the beach on all 3 days. Perhaps I did not touchwood after I said that. Tell you what!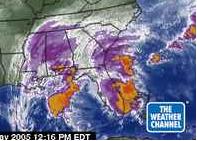 no touchwood

That mess there is the current cloud cover over Florida. I awoke at around 4:30 AM to a loud thunder clap. I sat there, stupidly thinking - what? must be a dream. Then, a couple of lightning flashes - it was de ja vu all over again. Last year during august-september, I was feeling the same way - hoping that the roof does'nt fly off. Luckily there was no wind factor today. I scampered across my apartment to disconnect my computer, TV and modem (not the AC). Today CNN
reported
that it would be a busy hurricane season. Sigh!.
Talk about the myth of global warming!.